LANDSCAPING

Patios:
Grow n Mow can construct a new patio and give you an area to relax and entertain. With our long hot summers you really do need an outside area to enjoy it!
Paths:
We can lay paths with gravel, paving flags or a combination of both. A path can simply be a way to get from here to there or it can be an attractive addition to your garden adding interest, colour and texture.
Edging:
Lawns, paths, flower beds and vegetable patches can be improved and made easier to maintain with the addition of an edge of timber, plastic, setts or cut off posting. Try it you'll like it!
Segmental Walling: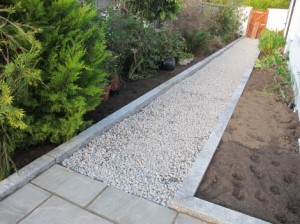 This one sounds daunting but it is a quick and easy way of adding interest to your garden. It can be used to transition from high to low areas in your garden, create a raised bed or it can add an unusual feature. This is one of my favourites, I have one!
New Lawns:
This can be approached in two ways, either seed a prepared area or roll out turf for instant impact. This can also be an ideal time to radically alter you garden design putting a new healthy lawn at the centre of your new garden.
Garden Design;
Grow n Mow can help you design the garden you always wanted. We will visit your garden and in conjunction with you we will arrive at a garden design that best suits you and your budget.
Garden Ideas;
Talk to us about ideas you have for your garden, let us assist in bringing them to life. If you are struggling with ideas for your garden let us give you the benefit of our experience and we can give you some garden ideas, you simply pick the ones you like best and away we go!
Low Maintenance Gardens;
Grow n Mow can design and create and plant a low maintenance garden that looks good and needs the minimum of care. We can talk about Heathers, Grasses, Shrubs, etc.
Raised Beds:
Raised beds are great for giving you extra soil depth and help to take the strain out of gardening for your back! Raised beds can also add interest to your garden.
'My garden has changed so much since Hamish started to look after it for me, it is now a pleasure to look out the window at it. Even the bricklayer working next door noticed the improvement!' Susan, Roselawn, Dublin 15.